about parcheggio
Parcheggio, which translates to "parking lot" in Italian, refers to the restaurant's location in a tongue-in-cheek way. As well, the name expresses our love of fun and enjoyment, and not taking ourselves too seriously.
A dynamic and confident addition to the North York neighbourhood, Parcheggio celebrates simple and creative Italian cooking, satisfying cravings with fresh handmade pastas, steaks, chops and seafood.
Parcheggio features a stylish dining room, several private and group dining spaces, and a large patio. Banquettes inspired by vintage Italian car upholstery, antiquated street lamps, and hand-painted parking lot graphics all pay homage to the Parcheggio name.
Chef de Cuisine
Navinder Saini
For Chef Navinder Saini, food is an expression of love. Growing up in boarding school, he looked forward to vacations because of his mother's home cooking. Those rare, precious meals they shared were moments to be cherished, and his mother was his original culinary inspiration.
Although he enjoyed cooking for family and friends, it wasn't easy for Chef Navinder to convince his family that a career in hospitality was viable. Fortunately, he made it work with resilience, passion and talent. He studied Hospitality Management at the world-renowned Le Cordon Bleu school in Sydney, Australia, creating a perfect springboard to enter the culinary scene. He cut his teeth at restaurants around the country, including Andre's Cucina and The Hill. During these formative years, he discovered and honed his individual cooking style while specializing in Italian, Mediterranean, French and modern Australian cuisine.
Migrating from Australia to Canada, Chef Navinder settled at O&B because he shared the company's commitment to excellence and positive work culture. He quickly became part of the family as Sous Chef at Parcheggio, rising to Chef de Cuisine in record time. In his current role, he brings a distinct culinary ethos: seasonal, deceptively simple and always respectful of produce and tradition.
A big wine and music fanatic, Chef Navinder can usually be found sampling wines while listening to a new vinyl discovery on his days off. Adding good friends to the mix makes it even better. Whenever he can, he travels to learn more about all the cuisine, wine and music the world has to offer.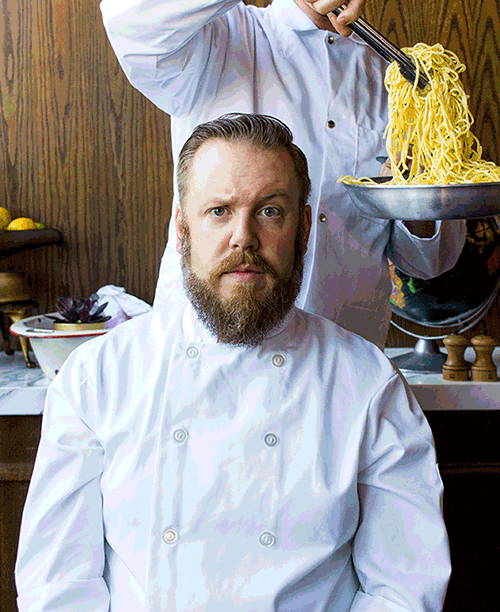 District Executive Chef
Andrew Piccinin
Food has always held an important place in Chef Andrew Piccinin's life. The family dinner table built strong connections that flourished when he decided to become a cook, and has directed his career towards food that speaks to the conviviality and connection that comes from eating with loved ones.
Shortly after graduating from Niagara College's culinary management program, Chef Andrew landed a job as a cook at Canoe, Oliver & Bonacini's critically acclaimed Canadian restaurant in downtown Toronto. Chef Andrew spent three years working under Executive Chef Anthony Walsh, who taught him to cook at a level he had never experienced. During his time at Canoe, the restaurant was named "The Best Restaurant in the City" by Toronto Life magazine.
In 2009, Chef Andrew was promoted to Sous Chef at Jump, O&B's high-energy Bay Street hub, where he expanded their fresh handmade pasta program. In 2011, he left Jump to open and operate a boutique catering company alongside his wife. Chef Andrew returned to O&B in 2015 as Executive Sous Chef at Canoe, and then moved on to help open and lead the kitchen at Leña Restaurante, O&B's South American inspired dining destination.
At Parcheggio Ristorante, Chef Andrew returns to his Italian cooking roots. Using authenticity as a guideline rather than a hard-fast rule, Chef Andrew features a mix of local Ontario ingredients and premium Italian products. Drawing inspiration from personal experience, including his own Nonna's cooking, Chef Andrew will craft delicious, honest food – well-made and simply presented.
In 2020, Chef Andrew was appointed District Chef for Oliver & Bonacini Hospitality. In this role, he continues to oversee culinary direction at Parcheggio, Beauty Eats, and Village Loft, Babel, Jump, and O&B Café Grill, Bayview Village.